Designed for: Grades 9-12 For use by: Students, Teachers, Parents, Career Counsellors.
Learning Styles: Classroom based
Resource Type: Document
We're living in an exciting time when new technologies are changing the face of agricultural production – and innovation in seed has played a major role in that transformation. Although there are more career opportunities than ever, fewer young people are choosing to work in these fields; for example, the number of new students entering agricultural breeding programs is at an all-time low.
Agriculture generates some 22 million jobs in the United States – and most of those are located off the farm. In fact, fewer than 2 million Americans are actively engaged in farming today. Today agriculture is a science-based, high-tech field offering new challenges and an array of career opportunities, ranging from food scientist to agricultural journalist to wildlife specialist.
Employment opportunities for U.S. college graduates with expertise in the food, agricultural, and natural resources system are expected to remain strong. A study by the U.S. Department of Agriculture in 2004 estimated that there would be more than 52,000 annual job openings for new graduates through 2010. But only 49,300 qualified graduates are available each year for these positions – 32,300 from programs in agriculture and life sciences, forestry, and veterinary medicine, and some 17,000 from allied higher education programs such as biological sciences, engineering, business, health sciences, communication, and applied technologies.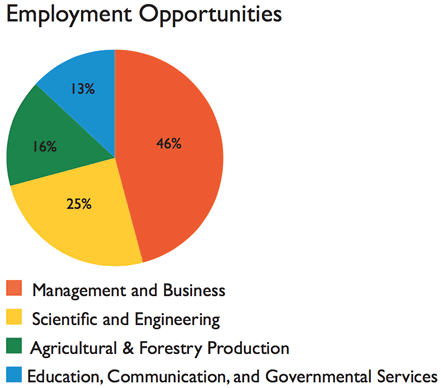 Breakdown by job category:
Management and Business (46%)
Scientific and Engineering (25%)
Agricultural and Forestry Production (16%)
Education, Communication, and Governmental Services (13%)
Learn more about the opportunities described, in this study Employment Opportunities for College Graduates in the U.S. Food, Agricultural, and Natural Resources System 2005-2010.
The salary range for an entry-level job for a college graduate with a BS degree could be from the mid-$30,000s to low $40,000s; experienced professionals could expect to receive a salary in the mid-$60,000s.
The resources in this section give you information about the many careers available in the agriculture and seed industry.